Camp Vodenca is a family business, ran by family Momirski. We started our family business back in 2002. The name Vodenca is composed of a word VODA, which in Slovenian means WATER. Water is the one thing we could say we are most proud of. Our rivers are so clean you can drink the water directly from the river. That is way we decided to name the campsite Vodenca – water place.
Sašo is the boss and the owner of the Camping Vodenca. He runs the camping alongside with his wife Mirjana, she takes care of the spotless toilettes, kitchen and beautiful flowers. At the reception you will meet Saša, she will help you with planning your days and basically with anything you need to organize or if you need any information about the area. Saša's boyfriend Jure is also working here. He is taking care of all the rent a tents, keeps them neat and clean. He keeps the camping place clean and very well organized and he can help you out with any technical problems.
We are really dedicated to make you feel comfortable and to make your stay as memorable as we can. We really want you to make a lot of beautiful and unforgettable memories to take home and to share them with your friends and family.
We know how much personal approach means to guests and we really want you to fall in love with the nature, animals, mountains, rivers and Soča Valley in general just like we did. We would never change our home town for anything in this world and we want you to see what we see every day. This is way our slogan is "Your home away from home".
We are convinced that camping in Soča Valley is one of the best ways to experience the beauty of the nature around you. You can see things that people in apartments and hotels won't ever see. You are basically sleeping in the middle of the most beautiful and pristine nature in Slovenia and of course the nature should be the one reason why you decided to come to Bovec and second reason would be the adrenalin sports. And what better way is to breath in this entire outdoors than sleeping in a tent? J
We would really like you to enjoy the nature of Triglav National Park, go hiking, see our natural beauties, educate yourself about 1st World War, have the most scenic walk next to the emerald river Soča, visit the highest waterfall Boka, have a cable car ride up to the highest Ski resort in Slovenia Kanin mountain, have a cup of the cleanest river Soča, have a fun ride up to the highest mountain road to Mt. Mangart and in the end you just have to try one of the many adrenalin sports that Soča valley has to offer. And this is just a small part of what we want you to see, do, experience and enjoy in!
We have our big boss Sašo Momirski – Saš. He is the owner and most of the time he bosses us around, but he also does a lot of work.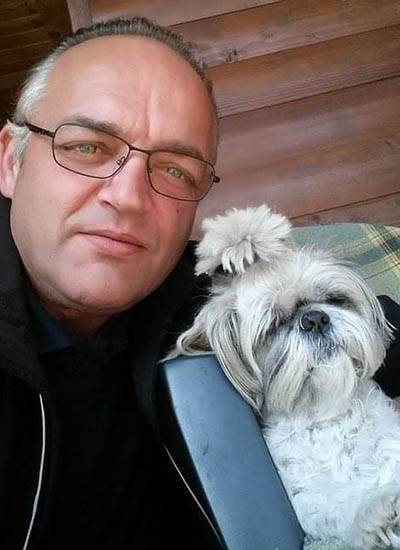 You will also find here his wife Mirjana Momirski – Mirča. She is our flower and in two ways. She will be happy to welcome you at the reception and she is more than happy to take care of our flowers. She is also at fault that everything is so shiny, aromatic and spotless. For all this, you can thank her.
If something is broken, needs update or someone gets a new idea about how the camp should look like, you will have to contact Jure Kutin – Jurc. Alongside with our big boss Saš, they will do wonders. They really have magic fingers. There basically isn't a project that they couldn't do. They created our oasis Camp Vodenca, so for all this you can thank them.
At the front desk you will always find Saša Momirski – Saši. She will give you all the information you need and help you with organizing your holidays. She also takes care of our web page, social media, marketing and e-mails. So you will also meet her if you write us an e-mail, post something on Facebook, Google+, Twitter or Instagram.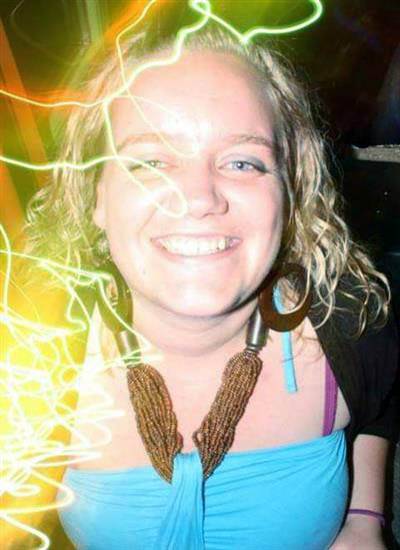 And behind the scenes, the person that you will never meet is Andrej Lužar, Frupo company. Andrej Lužar takes care of technical support. Mostly when Saši has a new idea and needs something new on the web page, Andrej is the one who solves the problem.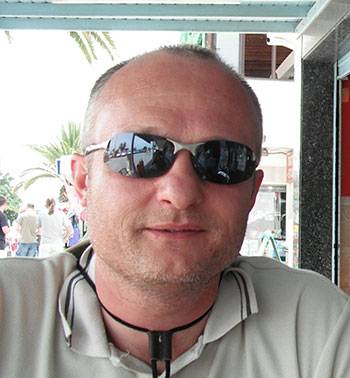 So, this is Camp Vodenca team. We hope that you will give us a chance and visit us!