We were thinking for a long time if we should write a blog about camping in Bovec. It kind of didn't make sense to us why would we write it, but after a few random conversations with our guests we thought we should write down a few things about camping in Bovec (check out more from here), in Soča valley and Triglav National Park.
We noticed that guests who decide to come to Bovec and Soča Valley in general are always very surprised about the area and how beautiful it is. They always say that they didn't imagine it will be so beautiful here and that they will enjoy it so much. Most of the guests don't plan enough time for their visit of Soča Valley and Triglav National Park.
Slovenia is a very impressing country, full of beautiful places and once you get here it will leave you hungry for more. Slovenia in not only Ljubljana, Bled, Postojna and Prian. Slovenia has a lot of hidden gems and Bovec is one of them. Every year we get more and more people, but it is still not extremely famous and people always leave wishing they had more time to spend in Bovec.
So to make you see why should you decide to camp in Bovec and why should you visit Bovec at all, we are going to give you 10 reasons and we hope you will start booking your stay, panning your trip and reading travel guides around Triglav National Park, Soča Valley and Bovec. If you're looking for low prices on camping vehicles, you can check them out from here! And no worries, we are always happy to help you out with any questions you might have, so feel free to ask us anything!
1. THE VIEWS, THE MOUNTAINS!
In our opinion this is one of the top reasons why you should visit this amazing valley. The views, oh these wonderful views… You can wake up every morning with a different view. Mountains that surround you are just breath taking, the scenery itself is impressing. Even if you aren't a good photographer, the photos will be crazy beautiful. And now you ask, sure the views are nice, but I can have the same view from the apartment? Well, not true. Position of your tent is the key. If you are as clever as some guests are, you can turn your tent or camper van slightly every day and you will wake up to a different view every single day. See, problem solved, you can have an adventure without having to get your ammo online and this is one of the advantages choosing camping over hotels.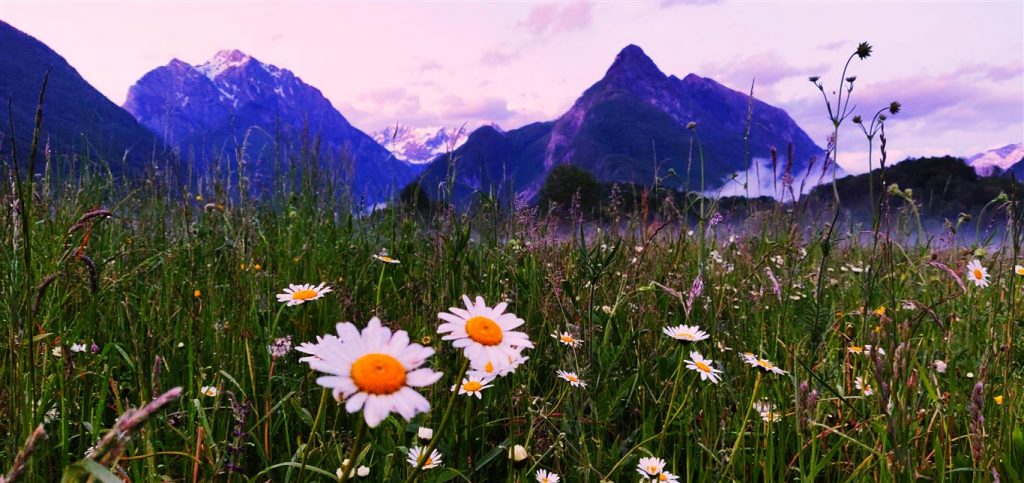 2. THE SOUND OF THE EMERALD RIVER SOČA AND HER SISTER KORITNICA.
Most of our guests come from the big cities and they are not used of these little villages like Bovec. Bovec basically has only 3.000 inhabitants, it is certified as a city because of its historical value, but to be honest it isn't really a city. So the point of this rambling about a city is that it isn't really busy and noisy and instead of "enjoying" city sounds, you will love the sound of wild rivers below you. The sound they make is southing and majestic at the same time. Why can't you here this from an apartment or hotel? There are no hotels and apartments so close you could hear the rivers and even if they were, the walls are your obstacle. Camp Vodenca is located just a few steps away from Soča and Koritnica river and far enough so you can enjoy the sound and it won't bother you. This is definitely a good reason to camp in Bovec!
3. TRIGLAV NATIONAL PARK
Camp Vodenca is literally located on the edge of Triglav National Park. Officially you will have to make 150 meters and you will step into the Triglav Natonal Park. Beside the Soča river, Triglav National Park is the second most popular reason why most of the guest come to discover Soča valley. Triglav National Park is the only national park in Slovenia. We are sure you already know that he got the name after the highest Slovenian mountain pick Triglav (2864m). And this beauty of the mountain can be seen from right in front of the reception of Camp Vodenca. So while you will be checking in, you can admire the highest pick in Slovenia. If you want to enjoy the park in its fullest the best option is camping. You would wake up every day with your feet in the dewy grass and with the sweet and warm sun saying good morning to you! Can you imagine anything better?
4. THE FOOD
Food in Soča valley is amazing. Our local specialties are something every visitor should try and we are sure you won't be sorry you did. You have to try local cottage cheese and local sheep cheese. You can choose between a young or older sheep cheese, they are yummy! With sheep cheese we make our local dish called "frika". It is made out of eggs and potatoes, local cheese and some ham. It is to die for! Our personal favorite is "čompe an skuta" which in translation means potatoes and cottage cheese and this is exactly what it is. Cooked potatoes, cut in half and on them you put some salty cottage cheese. Mnjami!
We are also proud of "Soška postrv" (Soča trout). Fish from Soča, made with some cooked potatoes…sounds delicious, right?
For a desert we like to recommend trying "Bovški krafi". They are made from pears, coockie crumbs, apple sauce, raisins and some sugar…all this wrapped in dough and cooked. Served with some sugar on top! We guarantee you will fall in love with this dish!
They are many more typical dishes that you can try and we are certain that you will adore all of them, you just need to give it a try!
But, if you don't want to eat out, you can buy the local meat, local cheese, some veggies and local beer…and there you go, you are all ready to have a picnic and a BBQ right in front of your tent. Could you wish for anything more?
5. THE PRIVILEGE TO ADORE THE STARS
Well this one is pretty much self explanatory. When you come to Bovec and Soča valley in general, you will notice that here we have really little light pollution. This is why the stars here are amazing. You can see them so clear and the night sky is just mesmerising. Needless to say, what is more romantic than to lie in the grass and watch the shooting stars?
This one is one of our favourite reasons why we think that everyone should go camping for at least for one night while visiting Bovec. You can sit in front of the tent every night and watch the stars. Or if you are brave enough sleep outside or at least with your tent zipper open. Are intrigued?
6. UNIQUE FREE RADIO STATION
We are wondering what do you think we had in mind? To be honest, this wasn't something we would ever think this would be one of the top reasons why camping in Bovec or Soča valley in general. But after if got mentioned from so many guests we stared to be attentive ourselves and it really is something special. Do you know what are we talking about?
If your ques was birds, you are right. The birds that live in the area of Camp Vodenca are truly one of the best singers. We all love to listen to their free radio station. It comes on with sunrise and ends sometime after sunset. But we assure you, you will enjoy this so much. And as you could figure it out, you will never have this free radio station in a hotel or apartment.
7. EVENING CAMP FIRE
Well we think this one is pretty obvious at any camp. There is no proper camping without a camp fire. The whole preparation of fetching the wood from the forest (collecting the dry ones on the floor), preparing the food and there is always some singing or a guitar. We provide the fireplaces for your camp fire and this is something you have to try while camping. Sit next to the fire, good food and admire the stars… Something you simply can't experience anywhere else.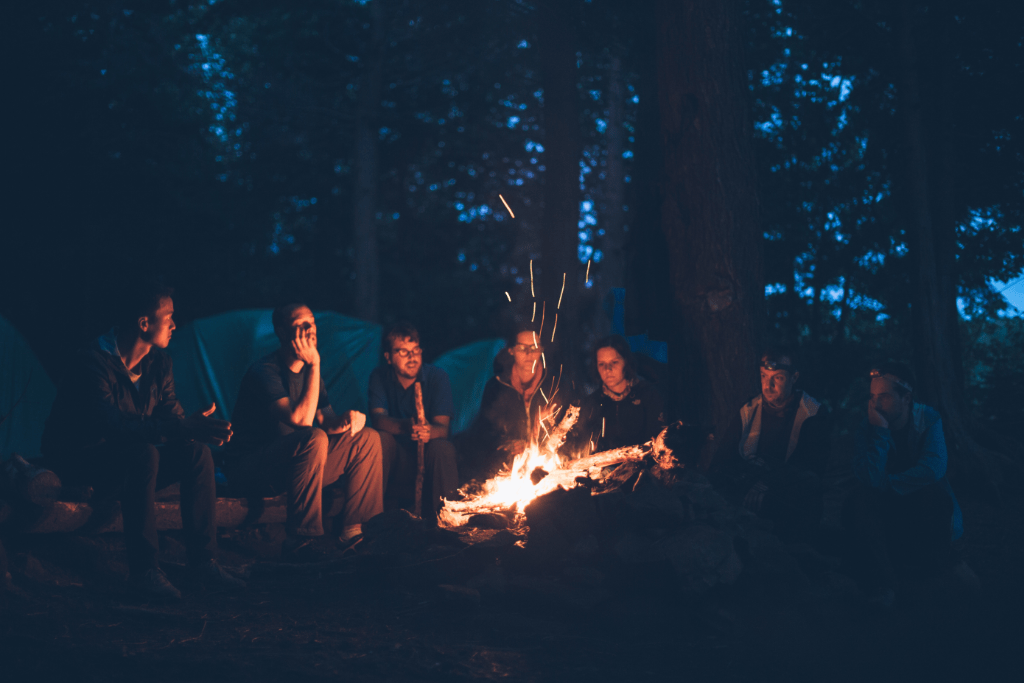 8. MEET NEW FRIENDS
All members of Camp Vodenca team are camping freaks and we could say with all the confidence that people who are camping are totally different type of people. It is so easy to meet new people and make new friends. When we go camping we always meet a lot of interesting people and also when we are working at Camp Vodenca, we host a lot of lovely guests. And it is so nice and rewarding when your guests turn into friends. We are always aiming that you come to Camp Vodenca as a guest and leave as a friend.
But more to focus on meeting new people and making new friends. We always see guests hanging out, making camp fire together, telling stories, shearing things, cooking for each other, doing sports together, going on a hike together… Last year we even got a visit from a couple that meet at Camp Vodenca and is still dating and we were so happy that they came to say hi to us.
We believe that this is really a unique experience that you won't experience in a hotel. So let's make friends!
9. FLOWER POWER
Bovec and Soča valley has a lot of flowers since it is really surrounded by nature. Specially if you decide to join us in spring, you will be amazed what nature has to offer. We discover a new flower every year. Not only a flower, a new scent and a new colour of flowers. The photos that you can make at this time are really awesome.
But the most unforgettable thing is when you place your tent in the middle of the flower field. You will be surrounded by this beautiful carpet of flowers and the smell will be something you will never forget. You can prepare yourself a nice picnic on a soft blanket and enjoy the beauty that surrounds you. Do you think you can have this if you stay in an apartment?
10. JUMP IN TO THE ADRENALIN RUSH
To be honest, there are 2 main reasons why people to Bovec and Soča valley. Because of nature and the adrenaline sports. You simply can't leave Soča valley without trying out at least one adrenaline sport.
And what is different if we go camping? Well it is a big difference. Camping place will be full of people who love kayaking, full of people who came here to go hiking, paragliding or canyoning. They are here to be active in nature. So since you will be sleeping and staying in the middle of nature you will get sucked in right away. You will be ready to jump in to the adrenaline rush right away!
Besides, you will be staying close to Soča river and you will admire the kayakers and rafts. There is a popular biking trail right by and you can see climbers across the river and so on. You will never meet this kind of people in a hotel, will you?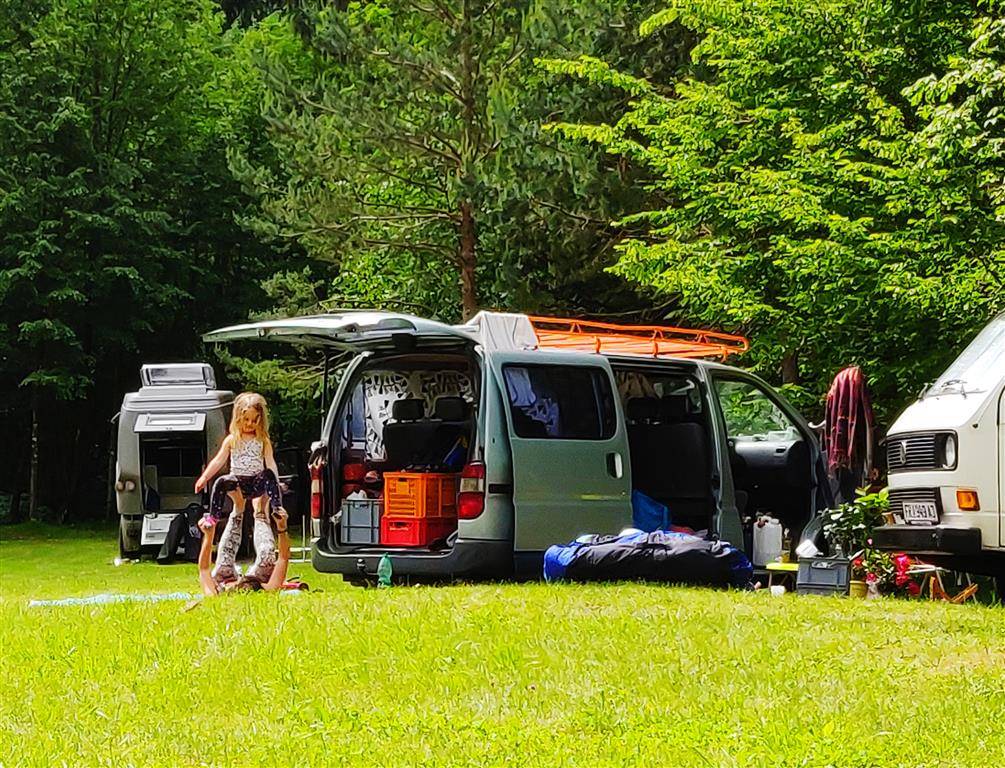 Here are our 10 reasons why camping in Bovec is a must. We are sure there are many more, but the most important ones are here and we think we commented them pretty good. We dare you to book yourself a camping spot or one of our rent a tent options and give us a try!