I decided to write a blog about what to do in Bovec on a rainy day. It is always a big discussion about what should we do and where to go, especially if you are camping. You know it is actually not so bad, if you come prepared of course.
Let's first cover the basics of camping in rain:
1. Set up your tent correctly. All the strings and little extra holes for wedges are not there for nothing. So make sure you set up your tent by the book.
2. At Camp Vodenca you don't need to worry about food. You can use our common kitchen and you have roofs with tables and benches all over the camping place to sit down and eat your meals.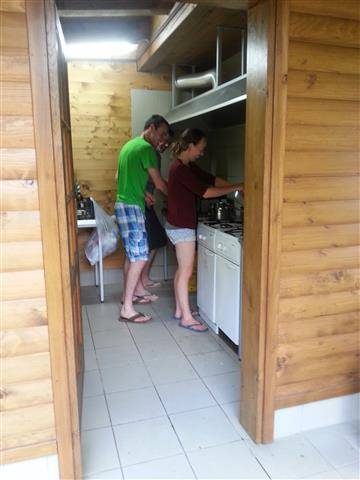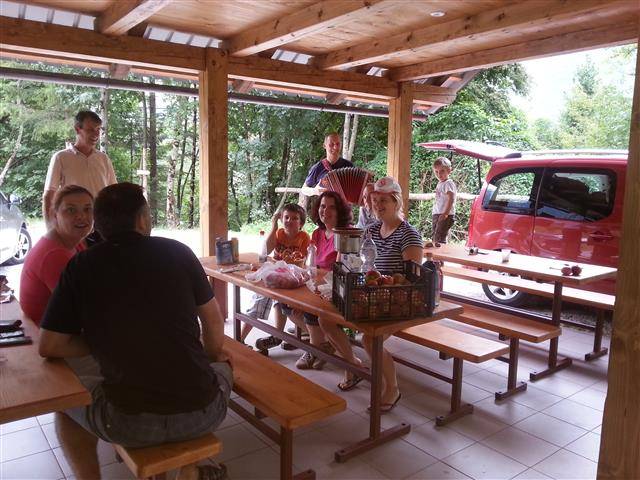 3. Don't forget to air out your tent, especially if you are sitting in your tent for a long time. Otherwise condensation will make all your thing wet and damp.
4. Come prepared. Bring some board games, a deck of cards or puzzles.
5. If you get really bored, you have a free WiFi all over Camp Vodenca. So you can watch a movie or play a game. But to be honest, we don't really support this. It is better to hang out and have some fun.
6. You can also find a small, but interesting Camp Vodenca library. Borrow a book and order some coffee or tea and enjoy in your reading.
7. If you have a partner to play with, you can always come to the reception of Camp Vodenca and dare your partner in some old school darts game.
So, we covered the basics. But if it's going to rain for more than one day or you really want to be active, then I will give you a few ideas of what to do in Bovec and the area on a rainy day:
1. I think you should really take your time and see the museum of Triglav National Park. It is really nice and very educational. I can guarantee you, you will have a fun time. It will cost you 5€ per person or if you are a student or an elder 3,50€ and children from 7 to 15 years old 2,50€. They also have a special price for families with 2 children, for all of you the price is 12€.
2. If you are more of a historic person, then you really shouldn't miss (not even if it's sunny) a 1st world war museum in Kobarid. It is one of the best museums you have ever seen and it deserves for you to take your time and see it. The entry is 6€ for adults, 4€ for elderly persons and students and for children 2,50€. You can also hire a museum guide for 20€. If you are a history freak, then this is the thing for you. If not, you will learn a lot of interesting and enlightening new things.
3. If the weather is just a bit moody, then you should go to Kluže fortress and visit an indoor museum and walk around the fortress. The views and your photos will be just breathtaking. The entry is 3€ for adults and 2€ for students and elderly people. It has a lot of history and interesting stories. If you have the time, don't forget to visit a well under the fortress and make a wish. Some say it can come true!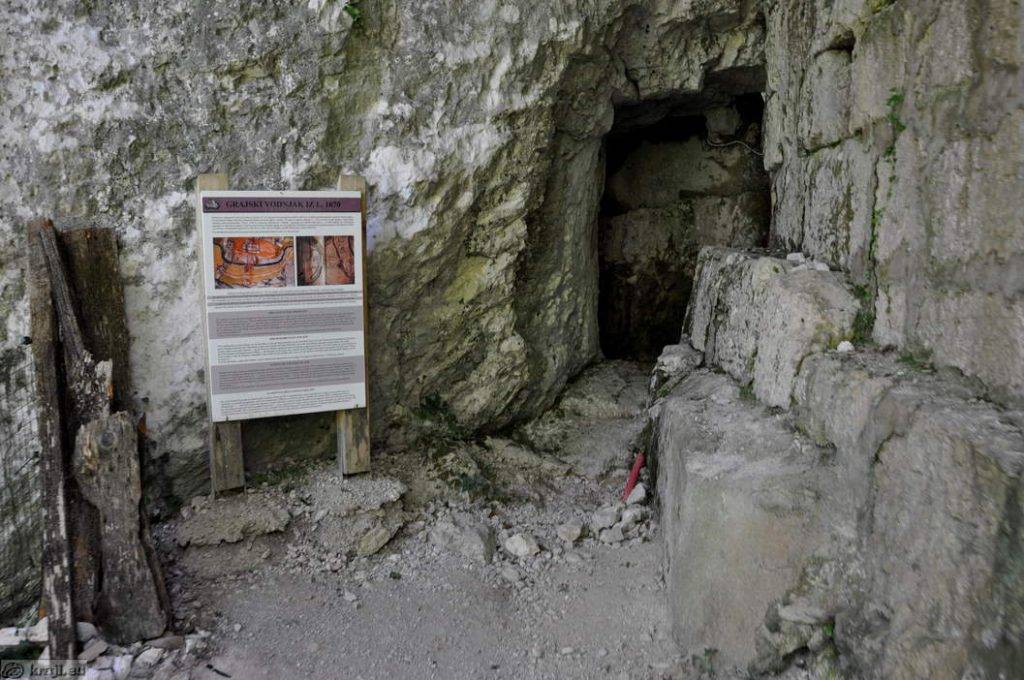 4. If you don't mind the driving (up to 2 hours one way) then you should really take advantage of the rain and just visit some super special places around Bovec. My first hint would be to take a stroll down to Venice. It will take you 2 hours to get there and I am certain that you will have a lovely day.
5. Lately there has been a big talk around our Slovenian human fish. Yes, you heard it right. In Slovenia, specifically in Postojna cave, we have human fish. Trip to Postojna cave is a perfect rainy day tour. You can also take some more time and also visit a castle nearby named Predjamski grad. A visit for both attractions will cost you 31,90€ for adults, 25,50€ for students, 19,10€ for children and 2,00€ for children under 5 years old.
6. If you are a shopping type of person you can take some time and go for Italian style of shopping to Udine. It will take you 1 hour to reach Udine and shopping is really good. So you will have a great time for sure!
7. You can also take a trip to Klagenfurt and visit Minimundus. The whole world in one place. Minimundus is located near a lake Worther See and if you want, you can also take a boat ride on the lake. The entrance fee is 18€ for adults and 10€ for children. They also have family tickets and combined tickets with boat rides.
8. It would be a great shame if you wouldn't visit Ljubljana on a rainy day. It will take you 2 hours to get there and Ljubljana is just a wonderful city that you can't miss. You will have tons of fun and a million things to do. You can also stop at lake Bled. Take a stroll to the little island and visit the castle. Drive to lake Bohinj visit Savica waterfall and maybe drive back to Most na Soči with an autotrain and drive back on the other site of the mountains.
9. You have to realize that if you come prepared in you expect rain in advance, you can bring with you good hiking shoes, big umbrellas and rain coats. You won't believe how many interesting and amazing places get uncovered when it rains and only when it rains. Waterfalls get bigger and you can see them in all the glory. Mountains get this funny hats and shapes with clouds. Children absolutely love to jump in the puddles and they have load and loads of fun even though it's raining. So that is why my most important advice would be to not stress about the weather and just enjoy in the nature and the beauty that is surrounding you.
10. The last but certainly the most fun activity of them all RAFTING. Yes, you won't believe it but it is always a good time to go rafting. You will be wet anyways.
So you see, there is plenty of activities that you can do in Bovec and soundings even on a rainy day. With my tips you can survive at least 10 days of rain.
Have fun!